swim Lessons and Clinics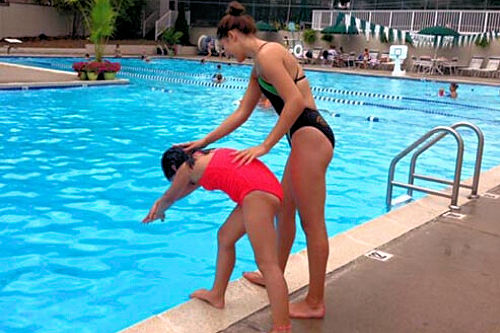 We continue to expand our offerings to ensure the needs of our membership. All lessons will be taught in a WSI (Red Cross) progressive format, including 4 basic strokes and an elementary backstroke. Safety will always be enforced, alongside skills such as treading water, diving, jumping, and water games.

Please note – Fridays are for make up lessons that are cancelled due to weather concerns. Missed lessons will not be made up.

No Call/No Show Policy:
Any cancelation emails MUST be sent by 8 PM the night before - at the latest. The first no call/no show will incur a 50% class fee charge. The second incident will incur a 100% class fee charge.
swimlessons@fishngame.org

Availability

starting June 28th

Group Lessons | Mondays - Thursdays 12:00 - 1:30 

Private/Semi-Private | Mondays - Fridays 1:30 - 3:30 

Please email Nicole: swimlessons@fishngame.org to schedule.


FEES (per 30min lesson)

| | |
| --- | --- |
| Private Lesson (1 swimmer) | $40 per lesson |
| Semi-Private Lesson (2 swimmers) | $25 per swimmer per lesson (parents are responsible for arranging the pairings - no substitutions - in the event of a no-show, the attending swimmer will be charged the private lesson rate) Total rate for a semi-private is $50/per lesson. |
| Group Lesson (max 4 swimmers) | $60 per week (4 days of lessons) per swimmer |
Ready (3-­5yr)
This class is for beginner swimmers. Skills working on: blowing bubbles, kicking, basic arm paddles & assisted back floating, assisted treading using a noodle, getting to the wall/exiting the pool
Set (4­-6yr)
This swimmer is comfortable in the water. Faces in the water working on rotary breathing, full arm circles (front crawl/freestyle), elementary backstroke, breaststroke arm movements, unassisted back floating and underwater games. Treading for up to 30 seconds.
Go (5­-7yr)
*Some swimming done in the deep water. Refined rotary breathing with freestyle, backstroke, developing breaststroke, dolphin kicks. Swimming half the pool length, diving from the side. Treading water for up to 1 minute.
Beyond (6­-9yr)
*Must be comfortable in deep water. Focus on endurance, relays and FUN!!! Goals of swimming 25 yards of freestyle and backstroke, breaststroke and butterfly, diving from poolside and diving blocks. Treading water (1 minute) and deep water test requirements.