Fish & Game Lessons and Clinics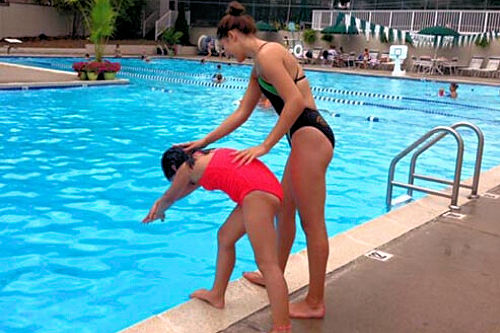 We continue to expand our offerings to ensure the needs of our membership. All lessons will be taught in a WSI (Red Cross) progressive format, including 4 basic strokes and elementary backstroke. Safety will always be enforced, along with treading water, diving, jumping, and water games.

Please note – Fridays are for make up lessons that are cancelled due to weather related issues. Missed lessons will not be made up.

Private  |   Fees  |   Swim Clinics  |   Group Lessons




Private
| | | |
| --- | --- | --- |
| Season | Date(s) | Day/Time |
| Pre-Season | June 6th & June 13th | Saturdays (1-3pm) |
| Full-Season | June 22-August 14th | Monday's -Friday's (1:30-5pm) |
| | Saturday's | June 20, June 27, July 11, 18, 25 and August 1, 8, 15 (1-3pm) |
*Private and Semi-Private lessons upon request



Fees/Members

| | |
| --- | --- |
| Private Lesson | $35 per 30 minute lesson |
| Semi-Private Lesson | $20 per student per 30 minute lesson; 2 children constitute a semi­-private lesson; (Lessons being booked as semi­ private must be used together at all times, there will be no makeups) |
| Book of 10 Lessons | $325 for private or $185 for semi-private (per student) |
Fees/Non Members

| | |
| --- | --- |
| Private Lessons | $45 per 30 minutes. |
| Semi-Private Lessons | $25 per student per 30 minute lesson; 2 children constitute a semi­-private lesson; (Lessons being booked as semi­ private must be used together at all times, there will be no makeups) |
| Book of 10 Lessons | $425 for private or $225 for semi-private. |
*No show/no call will be charged 1/2 the lesson cost for the first and second incident. For three or more no call/no show events, the full price will be charged. **Rescheduling or Cancellations need to be done 6 hours in advance**



Swim Clinics
Swim Clinics are available to participants of the Swim Team and strongly encouraged.. This is a great way for Fins swimmers to focus on a specific competitive stroke technique. Swimmers will be broken into two age groups (10 & under and 11 & up). Each clinic will focus on a different competitive stroke or aspect of competitive racing.

| | |
| --- | --- |
| Dates | TBD – Tuesdays & Thursdays during swim team season. 5:00 pm – 6:00 pm |
| Fees | Cost is $20 per clinic. Multi­-child family rates: $35 (2 children), $50 (3 or more children). |
Ready (3-­5yr)
Times: 12:30­-1:00;, 1:00-1:30 | For new swimmers.We will be working on blowing bubbles, kicking, basic arm paddles & assisted back floating, getting themselves back to the wall for safety and (hopefully) head underwater. Assisted treading using a noodle.
Set (4­-6yr)
Times: 12:30­-1:00, 1:00­-1:30 | Comfortable in the water. Faces in the water with air exchange, big arm circles (front crawl/freestyle), jumping into the water, unassisted back floats, elementary backstroke, breaststroke arm movements, and underwater games. Some unassisted treading for up to 30 seconds.
Go (5­-7yr)
Times: 12:30­-1:00, 1:00­-1:30 | ­ **Some swimming done in the deep water. Refined rotary breathing with freestyle, backstroke, developing breaststroke, dolphin kicks. Swimming half the pool length. diving from the side. Treading water for up to 1 minute.
Beyond (6­-9yr)
Times: 12:30, 1:00­-1:30 |­ ** Must be comfortable in the deep water. Focus on endurance, relays and FUN!!! Goals of swimming 25 yards of freestyle and backstroke, breaststroke and butterfly. Diving from poolside and diving blocks. Treading water (1 minute) and deep water test requirements.
| | |
| --- | --- |
| Dates | June 22– August 14: Monday, Tuesday, Wednesday & Thursday (Fridays are a makeup day due to weather related cancellation). **Week of July 4th­, lessons will be held Monday – Thursday ** |
| Fees | Cost $45.00 per weekly session, per student; Classes will be 30 minutes in duration. Maximum of 4 students per class. Non-member rate – $55.00 per session. |