Fish & Game Junior tennis team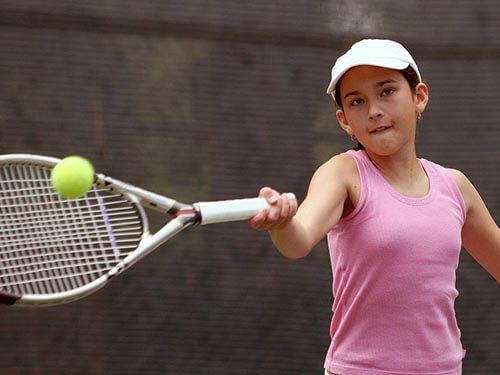 Chatham Fish & Game is proud to participate in the New Jersey Junior Tennis Association (NJJTA). This 5-week inter-club league is competitive, but still keeps an emphasis on fun, getting all kids to play matches in a relaxed social environment. Players participate in both doubles and singles play based on the number of players for each match. Host clubs have tennis professionals on hand at match sites to help organize play and keep similar abilities together. The NJJTA hosts the following age groups:

10 & Under (co-ed)
13 & Under (Boys & Girls)
16 & Under (Boys & Girls)

Junior Tennis Team Schedules  |   Junior Tennis Academy

The NJJTA season runs from the last week in June and goes through July. Participation on one of the junior teams gives your child two days of team practice (one hour each day) and one match day (about 90 minutes) per week. Players do not need to commit to all 5 weeks and are free to sign up week to week for practices and matches.



Junior Tennis Team Schedules

| | | |
| --- | --- | --- |
| 10 & Under | 13 & Under | 16 & Under |
| Practices | Practices | Practices |
| | | |
| | | |
| | | |
| | | |
| | | |
| | | |
| | | |
| | | |
NJJTA Match Schedules – Click on your child's category to find their schedule:
NJJTA Mandatory Dress Code

Member Cost: $20.00 per player per practice
Minimum of 2 players needed to hold class

Register For the Junior Tennis Team



Junior Tennis Academy

The Junior Tennis Academy is a continuation of our Junior Tennis Team. For up to 3 hours per week, the children will continue their dedication to improve and work hard to reach their optimal potential. The training will not only focus on building a strong base of stroke techniques, but will also develop each players tactical and court coverage skills. There will be live ball drills that develop rallying and decision-making skills. There will also be footwork drills to improve their agility, power, and speed. Players will begin to build points, learn how to improve their shot technique, and become more successful competitors.


Junior Tennis aCAdemy Schedule
Children ages 10 to 16 (or played on the 10U, 13U, and/or 16U Junior Tennis Team)

Tuesdays 9:00am – 10:00am
Wednesdays 9:00am – 10:00am
Thursdays 9:00am – 10:00am
Players are able to sign up day to day and week to week

Member Cost: $25.00 per player per class
Minimum of 2 players needed to hold class

Questions? Please Contact: Head Tennis Professional
Scott Veith at sveith@fishngame.org